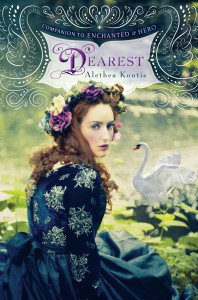 My publisher is giving away 25 copies of DEAREST before it's released...but the drawing only runs through October 29th so NOW'S YOUR CHANCE!
Quick! Before it's too late!
https://www.goodreads.com/giveaway/show/110912-dearest
(Crossposted from Waterworld Mermaids)
I do not believe in Writers Block.
I do not believe in The Muse.
Writers who reference these things frustrate me.
I believe in the power of sitting my lazy butt in the chair in front of my computer and forcing myself to work, however much I don't feel like it. I believe in Momentum.
Princess Alethea's First Law of Writing Momentum: A writer at rest stays at rest. A writer in motion stays in motion, unless acted upon by an outside force.
And boy, can the Universe dole out some forces.
In the last nine months, I have dealt with a lion's share of this crap--literally nine months from the posting of this blog--it started with driving my sister to Baltimore on Christmas Day so that she could have emergency spinal surgery at Johns Hopkins. Since then I have dealt with the illness and recovery of both my parents, and the death of my significant other's grandmother. I then broke up with that significant other (when you are told enough times that you are a selfish freeloader and that you should get out, eventually you do) and moved from DC to Florida...but not before having my fairly successful YA series dumped by my publisher. Not long after that came the death of my dear friend and inspiration Jay Lake...and just when I finally felt like I was getting my life back in order,
my nephew Josh died
. He was 25. We still have no idea what happened. We may never learn all that we wish to know.
I explain this not to garner sorrys or sympathy--I don't want them. I am beyond tired of all that. I would like my life to go on, please. I'm still in Vermont; I accompanied my big sister (Josh's mom) to her workplace today and sat down at my computer. We thought that by working together we might encourage each other to accomplish more. Cherie is catching up on paperwork. I'm revising a novel my agent is very excited about.
I'm on Chapter One.
I've been on Chapter One for a week.
But I still open my computer screen and stare at the words, willing myself to work on just one more sentence. Just one more sentence.
Ten minutes ago, we got a call that my nephew Caleb was in lockdown at his school most of the day. Some lunatic walked into the gas station in the middle of Morrisville, shot the clerk four times, and is now loose in town. With a gun. Caleb is safely at home. We will not be opening the
Bijou Cineplex
tonight. Cherie and I are still in Burlington, with a lot of work to do.
Like Chapter One. And this blog.
The Chaos of the Universe has followed me around for a large chunk of my life, and I've been a good sport about it so far...but you have to admit, this is a little ridiculous.
Yes, I am grief-sick. Yes, I am tired. But I got out of bed and dyed my hair this morning. I took pictures of the leaves on the trees so that my friends might witness the beauty of Vermont when she moves into Autumn with all her magnificence. Inside I quietly hope that my Universe gets less chaotic, but I'm not counting on it.
What I'm counting on is me and my butt, in this chair, reviewing one more sentence of Chapter One. And then one more sentence. And then one more. And if it's too late to do one after that, then I will go to sleep and get up in the morning and do one more.
I am a writer. Futile or not, insane or otherwise, it is my decision to fight this good fight. And it is
me
fighting, not The Muse or Divine Intervention or anything else. I am the one sitting here clad in my armor of words, pen brandished mightier than any sword, prepared to write stories that move mountains. And if they don't move mountains, they will at least move me....one more sentence forward. One more sentence forward. All the way to the end.
And then I shall open another document and do the same thing all over again, Universe bedamned.
I do not believe in Writers Block.
I do not believe in The Muse.
I believe in me.
A very special EPIC FAIRY TALE RANT is now live...featuring my bestest friend Princess Casey!
Hey guys!
The Parsec Awards
are kind of new to me. Now that I've been doing more on the narration front, I'm eligible! How exciting!
This year's eligibility window is May 1, 2013 to April 30, 2014.
The stories I have narrated are:
"The Monster & Mrs. Blake" (written and narrated by Alethea Kontis): http://www.castofwonders.org/2013/09/episode-97-the-monster-mrs-blake-by-alethea-kontis/
"Ieia" (by SJ Bickley):
http://www.castofwonders.org/2013/07/episode-86-ieia-by-s-k-bickley/
"Abigail" for Pseudopod (written by Hunter Gray):
http://pseudopod.org/2014/04/04/pseudopod-380-abigail/
I encourage you to give them all a listen and vote for your favorite...but if you can't decide, I'd love for you to pick "The Monster & Mrs. Blake"!
CLICK HERE TO PLACE YOUR NOMINATION:
http://www.parsecawards.com/2014-parsec-awards/nominate-a-podcast/
The nomination window is open until May 31st, 2014, so spread the word on whatever social media platforms you like. Both Cast of Wonders and Pseudopod are eligible in the "Best Speculative Fiction Magazine or Anthology Podcast" category and I'm sure they'd also love your support.
Thank you!
xox


Today, Princess Alethea rants about the Grimms' tale "Clever Gretel." Watch, enjoy, and share! xox


Happy Monday -- a new fairy tale rant is live!
I am sad to report that after eight happy years, Candlewick is finally putting ALPHAOOPS: THE DAY Z WENT FIRST out of print in hardcover.
There are only about 50 left in existence at the publisher -- if you've ever wanted one--for you or as a gift for a friend -- now's the time to pick one up. You guys get whatever you want, and then I'll buy the rest.
I still hate that this is happening before AlphaOops: Christmas ever had a shot. There is a sadness in my heart, deep down, and I'm not sure it will ever go away. <3
http://www.amazon.com/exec/obidos/ISBN=0763627283/wwwaletheakon-20
http://www.dabwaha.com
photo credit: EternaLegend via DeviantART
VOTE FOR HERO, from now until midnight CST tonight!
Voting ends at 12am CST tonight. Please click on over and help HERO make it to the next round!
http://www.dabwaha.com
There are only 90 minutes left, and as of now, only six votes separate HERO and the competition. It's been neck and neck for almost 12 hours straight. GAH!!!
I was invited by the Magical Words folks to write four inspirational blog posts, each one posted on a Monday in the month of January.
Missed any or all of them? Here are the links for your convenience. Enjoy!
********************
Jan 6th: The Danny Ocean Moment
-- "Next time you're stuck in a situation you can't get out of, put on your Danny Ocean Hat."
Jan 13th: The Fiction of a Writer's Life
-- "Being a full time writer means that I don't have business hours anymore. There is no longer a time I "normally" get up or go to bed. I have no sense of weekdays or weekends. There is only "working" and "feeling guilty about not working.""
Jan 20th: The Year Without A Book
-- "I might have a whole year, but it's not like I have all the time in the world or anything. I think a year is enough. A year in which I refuse to disappoint my fans…or disappoint myself."
Jan 27th: I Have No Bad Guys
-- "Write what you know. Be true to your characters. Be true to your world. Be true to yourself."
Finished reading HERO? Wish there was something else you could sink your teeth into? Well...how about this?
Now that Book Three has been revised, line edited, and is off to the copyeditor, I'm free to do WHATEVER I WANT! (mwahahahahahaha) "Whatever I Want" right now can be defined as continuing the saga that is
serializing The Golden Band, my very first novel.
There are so many things going through my mind as I transcribe this from the notebook where it has lived for over 20 years. Namely:
1.) Man, when I taught myself to write neatly, I WROTE NEATLY. Thank you, self.
2.) I *really* wasn't that bad a fiction writer. I reviewed stuff as a copyeditor that was on par...and sometime even slightly worse...than this. It kind of makes me mad that it took me so long to get serious about writing...but to be honest, I'd been submitting to venues for a long time, so technically I was serous about writing. I just hadn't quite thrown my heart and soul and sinew into it. And when I did, it was rather remarkable how quickly everything progressed from that. I mean...three years after Orson Scott Card's Boot Camp I was published by two major houses, and in the fourth year, I hit the New York Times list.
3.) I'm about to teach a bunch of Young Authors how to do this stuff....and I'm still a little clueless on what to say. You think I'd be rolling my eyes at this whole manuscript, but I'm really not. Sure, there's a bit of Head-Hopping (where a scene shifts to another character's point of view in the middle), and there's a massive amount of Stage Directions (what I call "turning" and "looking" and "nodding" and such)...but there's just not a lot of glaring stuff. I'd love to read my own work in front of these kids to tear it apart...and so far I haven't found a section that breaks enough rules to do that.
4.) I used to love this. As I type through this, I remember that romantic, overwhelming feeling that happens when a world takes over you. You don't have looming deadlines, you can just play around in a world for as long as you want. You can take forever on the intro...because really, it's your director's cut and no one's there to critique you if you don't want it.
There is a definite loss of romance when writing becomes a J-O-B, and I feel like I'm always looking for that again. In many ways, hidden between the awkward sentences, I find that here.
I hope you all share this link...especially with young writers that you know, to encourage them to never stop doing what they're doing.
So far, each section is only about 1000 words, which should only take you about 5 minutes to read. I'm up to section 8 right now. I'll update you again when I've made another significant amount of updates.
In the meantime, HAPPY READING! xox
(click the cover or HERE to begin)
Hello, everyone!