Princess Alethea's Fairy Tale Rants SEASON FINALE: "How to Find Out a True Friend"
Fairy Tale Rants will be back in September, after Dragon Con!

Episode 54 -- In Which Princess Alethea Talks Tanuki!
Princess Alethea Rants "How the Wicked Tanuki Was Punished"

One more episode until the Fairy Tale Rants Season Finale...
<3
Like cats? Then you'll LOVE this fairy tale.
2 more episodes until the Fairy Tale Rants Season Finale!
ktempest
New Fairy Tale Rant!
Episode 52: In Which Alethea Eats Ice Cream for Dinner.
Only a few more rants left in this "season"--I'm going to post through Bonnie Wagner​'s Fairy Tale Fortnight, and then Fairy Tale Rants will be going on hiatus for the summer while I get some writing done! <3
ktempest
I uploaded my first video onto YouTube on April 17, 2008.
I had buried my ten-year-old nephew Caleb in the sand and
I recorded his amusing diatribe as he tried to escape
. It's had a little over 400 views, life to date.
Less than a year later,
I recorded my friend Mary's adorable father demonstrating how to play the musical saw
. He was still dressed in his tuxedo, having just returned from a night at the symphony with his wife. That video has over 30,000 views.
Thanks to the success of "How to Play the Musical Saw," YouTube invited me to be a partner in their AdSense program, meaning that I could make money if I decided to run ads on my videos. I figured "what the heck" and gave it a go. I monetized the applicable videos and went so far as encouraging my friends and family to click on them when they saw them.
That's right.
I actually encouraged my watchers to click through and visit the websites of my advertisers.
If I was an advertiser, I would want a million of me.
Now, when you sign up for AdSense, you promise not to spend all day watching your own videos and clicking on all your own ads. I made this promise and never did anything to violate it. I don't have enough time in the day to do my own stuff, never mind waste hours clicking on YouTube just to earn $0.02.
I knew it wouldn't be a moneymaker--
there are plenty of articles about how much creators *don't* make on YouTube
. But in the publishing world (especially these days) every little bit helps.
The minimum you must earn before AdSense will cut you a check is $100. As of yesterday my earnings total was a little over $68.
Next month, Caleb turns 17.
In April of last year, I launched my vlog series "
Princess Alethea's Fairy Tale Rants
." Every Monday, I post a short video of myself summing up one of the original Grimm or Andersen or Lang and then chatting a bit about the ridiculous parts. It's a labor of love that's gained me more subscribers than views, but it's kept me going.
The Rants were awesome to have as my year slowly went to Hell in a Handbasket. If you watch the whole series from the beginning, you know when I was in Baltimore for my sister's surgery, or when I was in Newport News while Granny was on life support. I pulled in guest stars along the way, including my best friend Casey in Charlotte, NC...where I went after breaking up with my significant other and before moving to Florida.
I took a hiatus on the rants after Jay Lake died this summer. I had just gotten back on the horse--
I even wrote an essay about vlogging for the SFWA blog!
--when my nephew unexpectedly and inexplicably passed away.
I did not explain my absence, I just didn't vlog. I received fan letters asking if I would continue the rants and I assured them I would. I just didn't say when.
It was an inspirational
STAR
workshop led by Roxanne St. Claire that got me back in the race. I decided that the universe--and NY publishing--had beat me up enough. I was going to start self-publishing in a serious way. I was going to assemble my fans--those lovely people I've spent a decade cultivating into dear friends--into a Street Team. I was going to revive my old newsletter. And I was going to start ranting again.
All of these things happened in the same weekend. I posted the
newest Fairy Tale Rant
. I wrote about it in my newsletter. I shared it on Twitter and G+ and Facebook and everywhere else I could think of. I told the Street Team about it, and mentioned that they should click on the ads when they saw them.
Yesterday, I got an email from YouTube (bolding is mine).


Hello,

With our advertising programs we strive to create an online ecosystem that benefits publishers, advertisers, and users. For this reason we sometimes have to take action against accounts that show behavior towards users or advertisers that may negatively impact how the ecosystem is perceived. In your case, we have detected invalid activity on your AdSense account and as a result it has been disabled.

We are limited in the amount of information we can provide about your specific violation. We understand that you may want more information about your account activity. However, in order to protect our proprietary detection systems, we are unable to provide further details.
Essentially, they cut me off and didn't have to give a reason.
They also kept my $68.
I was allowed to appeal, however, which I immediately did. The appeal was an online form, in which I was given the chance to explain my actions...even though I had no idea why they disabled my account. My best guess was that the Street Team had gone in and watched all my videos and clicked on all my ads.
That's right,
two weeks before Black Friday, I sent a bunch of dedicated fans to click through to all the advertisers on my videos.
Obviously, I deserve to be punished for that.
Very early this morning, I received an email from YouTube saying that my appeal had been denied, and my account was now officially terminated.
I tried to sum the whole affair up to my mother over coffee, and as I was detailing what I had written in my appeal, she held up a hand. "You don't even know what you're appealing, am I right?"
"Yes," I said. "That's true."
"Then let's face it. It's a classic Bait-and-Switch. You were getting close to your $100 minimum and they decided to keep your money. Plain and simple."
Thanks to YouTube being "unable to provide further details," I don't know who is right, me or Mom. Part of me doesn't want to know, because I don't like thinking that I live in a world where a huge money-making gigantosaur like YouTube is petty enough to yank $68 away from a struggling, glitter-covered vlogger in a tiara three weeks before Christmas.
The silver lining in all of this is that my fans now don't have to sit through all the advertising that clutters up my videos. Plus,
I can now forward all my links to Patreon
, where fans of the series can donate as little as $1 per episode if they like the show, instead of having to click on all those links and pop-ups.
But I'm not going to lie...that $68 still bothers me. And if YouTube was a person standing right here in front of me, I'd probably kick him in the shins.
Bully.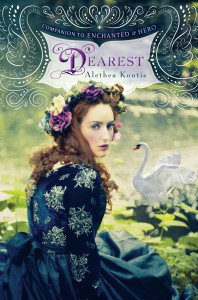 My publisher is giving away 25 copies of DEAREST before it's released...but the drawing only runs through October 29th so NOW'S YOUR CHANCE!
Quick! Before it's too late!
https://www.goodreads.com/giveaway/show/110912-dearest
(Crossposted from Waterworld Mermaids)
I do not believe in Writers Block.
I do not believe in The Muse.
Writers who reference these things frustrate me.
I believe in the power of sitting my lazy butt in the chair in front of my computer and forcing myself to work, however much I don't feel like it. I believe in Momentum.
Princess Alethea's First Law of Writing Momentum: A writer at rest stays at rest. A writer in motion stays in motion, unless acted upon by an outside force.
And boy, can the Universe dole out some forces.
In the last nine months, I have dealt with a lion's share of this crap--literally nine months from the posting of this blog--it started with driving my sister to Baltimore on Christmas Day so that she could have emergency spinal surgery at Johns Hopkins. Since then I have dealt with the illness and recovery of both my parents, and the death of my significant other's grandmother. I then broke up with that significant other (when you are told enough times that you are a selfish freeloader and that you should get out, eventually you do) and moved from DC to Florida...but not before having my fairly successful YA series dumped by my publisher. Not long after that came the death of my dear friend and inspiration Jay Lake...and just when I finally felt like I was getting my life back in order,
my nephew Josh died
. He was 25. We still have no idea what happened. We may never learn all that we wish to know.
I explain this not to garner sorrys or sympathy--I don't want them. I am beyond tired of all that. I would like my life to go on, please. I'm still in Vermont; I accompanied my big sister (Josh's mom) to her workplace today and sat down at my computer. We thought that by working together we might encourage each other to accomplish more. Cherie is catching up on paperwork. I'm revising a novel my agent is very excited about.
I'm on Chapter One.
I've been on Chapter One for a week.
But I still open my computer screen and stare at the words, willing myself to work on just one more sentence. Just one more sentence.
Ten minutes ago, we got a call that my nephew Caleb was in lockdown at his school most of the day. Some lunatic walked into the gas station in the middle of Morrisville, shot the clerk four times, and is now loose in town. With a gun. Caleb is safely at home. We will not be opening the
Bijou Cineplex
tonight. Cherie and I are still in Burlington, with a lot of work to do.
Like Chapter One. And this blog.
The Chaos of the Universe has followed me around for a large chunk of my life, and I've been a good sport about it so far...but you have to admit, this is a little ridiculous.
Yes, I am grief-sick. Yes, I am tired. But I got out of bed and dyed my hair this morning. I took pictures of the leaves on the trees so that my friends might witness the beauty of Vermont when she moves into Autumn with all her magnificence. Inside I quietly hope that my Universe gets less chaotic, but I'm not counting on it.
What I'm counting on is me and my butt, in this chair, reviewing one more sentence of Chapter One. And then one more sentence. And then one more. And if it's too late to do one after that, then I will go to sleep and get up in the morning and do one more.
I am a writer. Futile or not, insane or otherwise, it is my decision to fight this good fight. And it is
me
fighting, not The Muse or Divine Intervention or anything else. I am the one sitting here clad in my armor of words, pen brandished mightier than any sword, prepared to write stories that move mountains. And if they don't move mountains, they will at least move me....one more sentence forward. One more sentence forward. All the way to the end.
And then I shall open another document and do the same thing all over again, Universe bedamned.
I do not believe in Writers Block.
I do not believe in The Muse.
I believe in me.
A very special EPIC FAIRY TALE RANT is now live...featuring my bestest friend Princess Casey!
Hey guys!
The Parsec Awards
are kind of new to me. Now that I've been doing more on the narration front, I'm eligible! How exciting!
This year's eligibility window is May 1, 2013 to April 30, 2014.
The stories I have narrated are:
"The Monster & Mrs. Blake" (written and narrated by Alethea Kontis): http://www.castofwonders.org/2013/09/episode-97-the-monster-mrs-blake-by-alethea-kontis/
"Ieia" (by SJ Bickley):
http://www.castofwonders.org/2013/07/episode-86-ieia-by-s-k-bickley/
"Abigail" for Pseudopod (written by Hunter Gray):
http://pseudopod.org/2014/04/04/pseudopod-380-abigail/
I encourage you to give them all a listen and vote for your favorite...but if you can't decide, I'd love for you to pick "The Monster & Mrs. Blake"!
CLICK HERE TO PLACE YOUR NOMINATION:
http://www.parsecawards.com/2014-parsec-awards/nominate-a-podcast/
The nomination window is open until May 31st, 2014, so spread the word on whatever social media platforms you like. Both Cast of Wonders and Pseudopod are eligible in the "Best Speculative Fiction Magazine or Anthology Podcast" category and I'm sure they'd also love your support.
Thank you!
xox